So you've landed on the right page if you are looking to join our Podcast Masterclass.
WE ARE BACK FACE TO FACE.
ShirePOD runs a 1 day Podcast Masterclass with the Wordstyler, helping you synthesis your content to create compelling stories, interesting interviews or educational episodes.
Podcasts are a great way to deliver your newsletter or short bursts of information on you webpage.  Your voice is a powerful source of connection and has the power to to increase engagement beyond expectations. 
In this 4 hour 1/2 day Masterclass we cover
Planning and Preparation 
Presenting
Production and Post Production
Promotion
These are the basic skills set that will help you develop a communication channel that goes directly to your audience, without you even having to be there for the conversation…..pretty cool.  But it's also a great way to capture stories, insights and valuable information that can be efficiently repurposed over and over again and we'll show you how.
Limited spaces.
What can you expect from the Masterclass?
Preparation and Planning : There is a difference between these two segments.
Preparing is about pulling all your ideas together in terms of content, format, audience, resources and guests.
Whilst Planning is about developing the spine of your series, scheduling time to script, record and edit, launch dates and identifying the digital assets that will help your listeners engage.
We have developed a workbook for the Masterclass that you receive as well as the Ultimate Podcast Content Creator Diary to help you record all the important links, details, ideas and your podcast notes in one place –
It really is the Ultimate Podcast Content Creator. You can purchase yours here on click on the button below.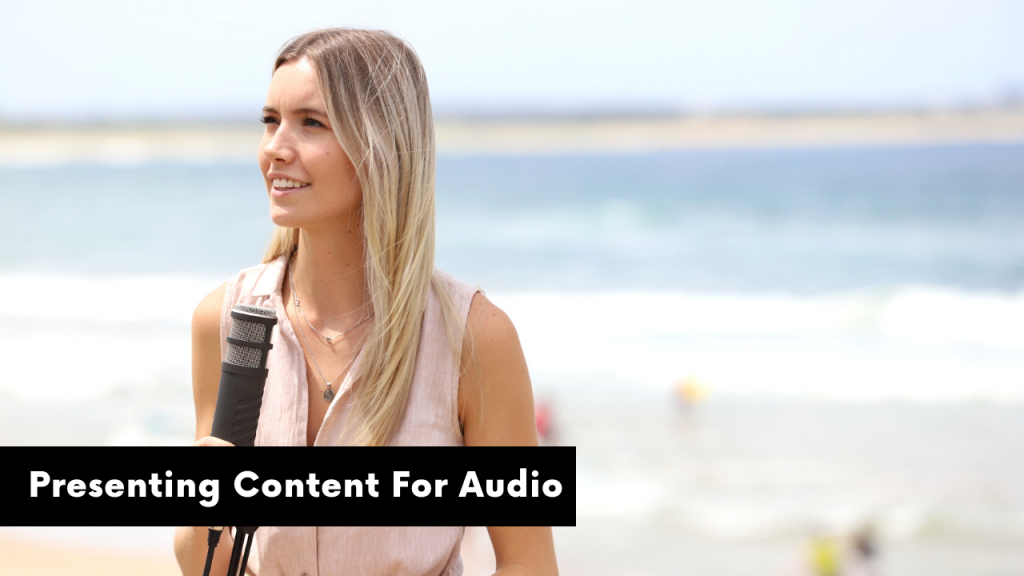 Presenting : This is probably one of the most important elements in creating your podcast.
Presenting for audio is different.
Your audience does not have the visual cues that communicate what you are saying. So we have pulled in the presenting experts who will share all the tips and tricks to effectively engage your listeners and present the information you want to share.
We go over everything from how to conduct an amazing interview to scripting your Intro and Outro and so much more. We share 15 important points that will make recording your podcast easy and pleasing your audience simple and share the mistakes not to make.
Production : This is the most asked questions apart from 'how do I make money from a podcast?'
"What microphone do I use?"
We show you how to set up a studio for under $50 using a phone and free software right through to a fully equipped studio.
We share how to engage interviewees and get the best recording sound with whatever equipment you have.
The Masterclass explains how to improve the quality of your recording in software like Audible and where to find musical signatures and sound effects.
Post Production : This segment is also presented during our online Production session to which you will have access to.
You will learn the Basic Editing process and Episode Construction.
We show you how to create your show notes, complete a digital assets audit, set up links to activate your promotion strategy.
Promotion : TRUTH BOMB!  Promoting your podcast will probably take you a little longer that it does to produce it.
Sharing snippets of your content to attract your listeners and the stories that will help them to decide whether they invest their time in your podcast, will come easy if you follow our plan.
You've already done the work and now it's just about putting it out there, leveraging and repurposing. We cover everything from Website content, Digital Asset and Links, Social Media and Networking groups.
ONE one ONE consults
As part of our online course when you purchase the full MasterClass we book you for a half hour ideation consult prior to doing your course to discuss your great Podcast Content ideas, one on one.
We also do a half hour consult after the last session to review the gaps in knowledge and skills so we can guide you to build your audience.
We've found that our students have got the most value from attending the masterclasses because they not only hear the questions of others but start finding and creating the network of interviewees that would be ideal for their podcast.  
The Podcast Community is a welcoming sector of media and marketing, especially if you love a good chat.
It's also a sacred space that builds confidence and supports you in your podcast journey.
Because it can be very lonely when it's just you and a microphone in a small cosy space.
BOOK NOW You will be redirected to our content creation ecommerce site, www.piprae.com owned by Pip Rae our Creative Director of ShirePOD. This is the secure site to process all transactions (SSL Certificate)
The Course goals:
Create your list of topics
Develop your bio and expertise
Create the spine of your Podcast series
Refine your Podcast episode content
A bit about essential equipment
A lot about presenting your Podcast
Record your Intro and Outro
Quick look at interviews Q's
Record your first episodes in a month
Editing made easy
Post Production
Promotion Strategy
AND SO MUCH MORE……….including a mastermind review and podcast guesting information.
Cost $499.
Find Your Voice, Share Your Expertise and Educate your listeners.
If you have questions head to our facebook page ShirePod or read one of our 53 blogs on podcasting elements.
Join our ShirePod host group.
Become a Guest,
Subscribe to the station