We are so excited to have you stopped by to check out the benefits of our platform.  
We established our digital presence 18 months ago, and our story is quite unique.   We are a collective of business owners, dynamic creatives and community minded individuals who want to change the world.
We'll be turning 2 at the end of the 2021. WHOOP WHOOP! Mic Drop!
We offer hosting, training, hosting, distribution and guesting  as well as promotion and personal branding using the power of podcasting.
You'll find a summary of our Product List and Rates Card, 3. ShirePod_products For more information head to our growing list of products on the website.
We also manage other independent podcast series on different platform with a focus on positioning you in the podcast ecosystem.
BUT we are more than just a platform. We offer a community.
We use a cross promotion strategy to share your purpose and passion.
We'll introduce you to our audience and new listeners and other hosts.
We will upload your episodes, show notes and podcast tile for publishing on the day you want to go live.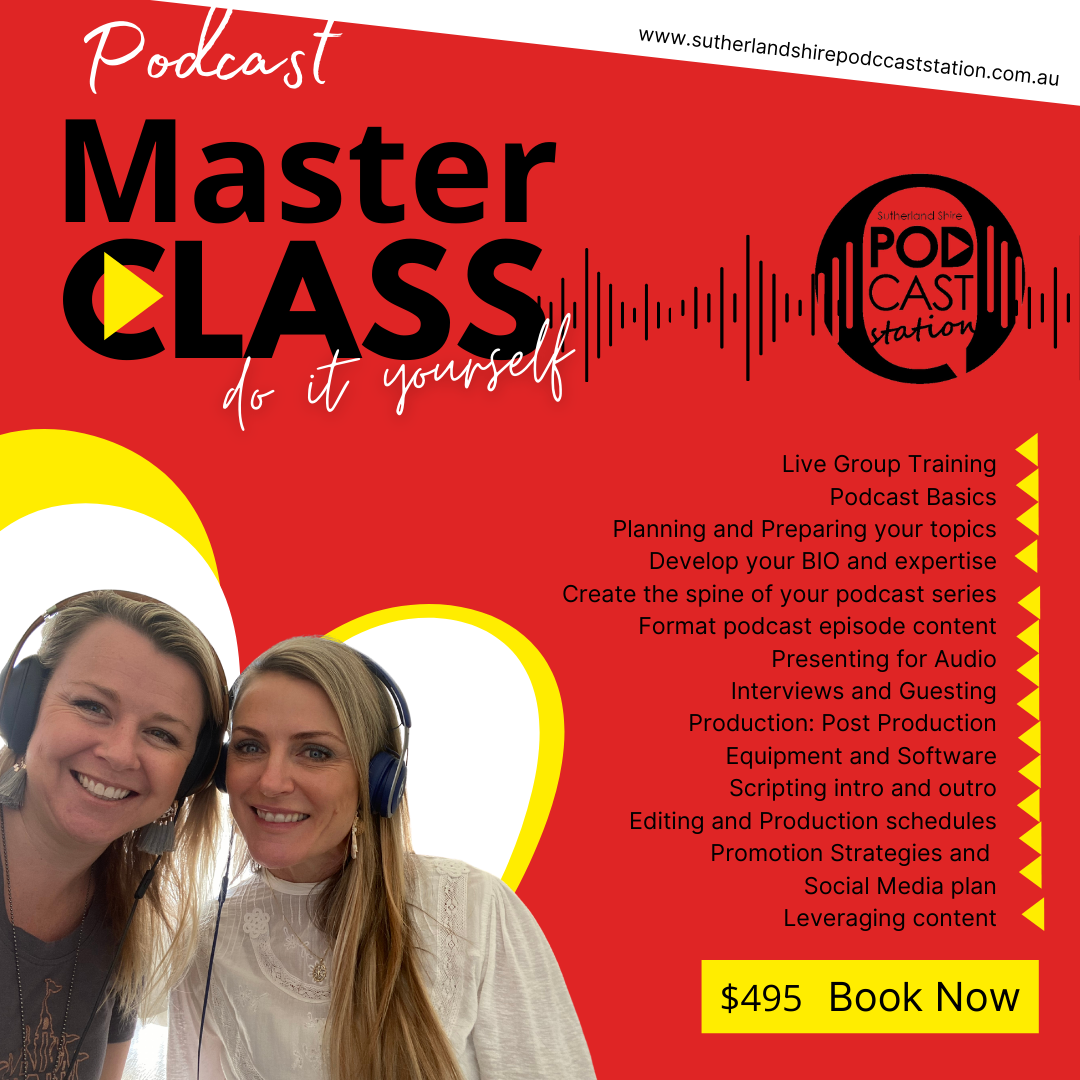 I'd like to invite you to join our FB hosting group to connect with other hosts.Your episodes will be apart of our RSS feed that is streamed from Podbean.com with a community URL.
WHEN YOU BECOME A SHIREPODDIE $49 p/m  membership
You'll be given your own webpage where we embed the uploaded Mp3 files and show notes.
You'll receive a unique URL  for each episode and your page. 
We also offer the opportunity to recorded bonus/secret/password protected episodes.
We provide you with monthly stats, graphs and trends along with engagement and reviews from our loyal listeners.
Our RSS feed also distributes to Apple iTunes, Google Podcasts,
Spotify, Stitcher and Amazon plus many others.
We'll promote your series and profile you as a host, along with your guests on our social media accounts.
You'll be invited to attend our Masterclass, which gives you life time access to our training and mastermind groups plus resources.
The Masterclass gives you access to our producers who can answer those questions about your podcast.
We offer discounts on equipment and studio hire. 
We offer guesting opportunities on recorded and live events.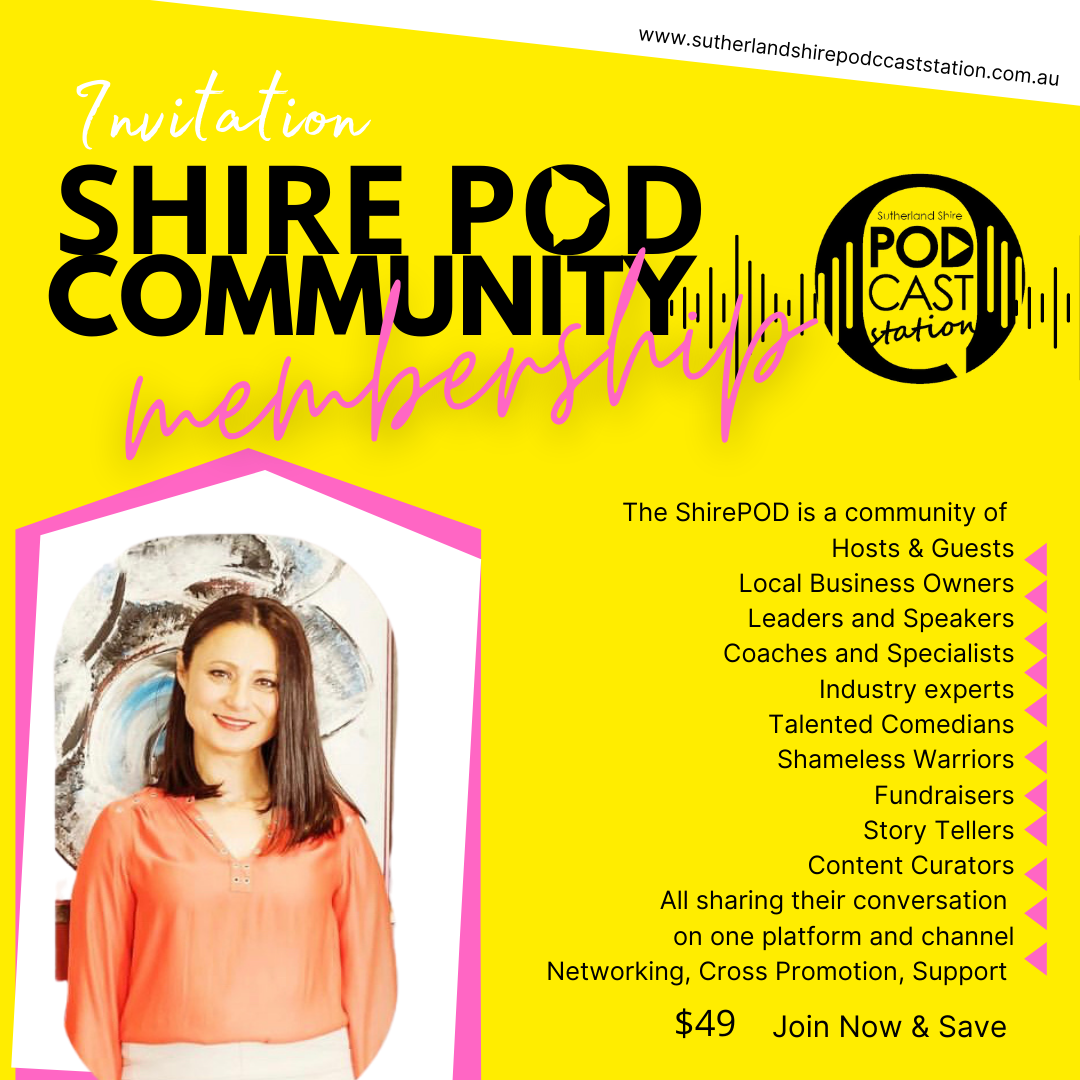 SHIREPOD membership is $49 per month including hosting, management and promotion, payable each month or upfront for 6 months.
We can negotiate advertising starting at $149 per episode for the life of the podcast, curating the 2 x 30 second ad roll pre and post episode.
We stream from the number one hosting platform, Podbean.com which also has the capacity to go live anywhere to our audience and it's own app. 
Our package gives up mobile access to the platform, live broadcasting to our audience anytime, live chat for support on technicals and no Podbean Branding, but we do love them. 
We have access to engagement intel not available in other subscriptions over multiple channels. 
We are building a patron platform to create a self sustaining community. 
If you are interested in becoming a part of our ShirePOD send us an email hello@sutherlandshirepodcastion.com.au
or connect through socials …..we prefer Instagram.
What we offer to our ShirePOD members
BASIC CROSS PROMOTION
This is a basic cross promotion plan for existing podcast series who want to reach a new audience.
For just $10 a month we upload your episodes and distribute the links back to you to share.
We publish your episodes and share on our community social pages with the art work you have supplied.
We set up a google drive for your mp3, artwork and show notes to be uploaded to.
You supply prepared show notes, artwork and any digital asset or website links.
You nominate your preferred scheduled release date. 1 or 15 of the month.
We look forward to supporting your brand building plan. You can download a submission form here.
ShirePOD Cross Promotion Strategy PDF
FILE MANAGEMENT AND CROSS PROMOTION
To have your own Webpage, social media plan and 2 promotions per episode as well as file management
(Upgrade to ShirePOD membership $49.00)
LIFE STORY PODCASTS
COMMUNITY AND LIVE INTERVIEWS
We actively take part in community events, awareness of social causes and the stories in our local area.
BRAND BUILDING INTERVIEWS
We offer a brand building podcast interview  or business brand episodes that curates content for your about me page, an online presence and the conversation you want to have with people even when your are not there.
ONLINE MASTERCLASS'S FOR THE 4P'S
We offer online individual training and education in Preparing and Planning Content, Presenting for Audio, Production and Post Production and the process of Publishing, Promotion and Pitching.
Each publication is subject to the T&C of ShirePOD and payment for 6 months is required before series is published.